Perth Walking Tour
Approximately 1.5-3 hours
As you are driving towards the centre of Perth, take Gore St. towards downtown and turn right on to Colborne St.
Begin your tour parking your car at the Crystal Palace parking lot. There is no charge to park your car on weekends. The GPS address for the Crystal Palace is 28 Drummond St. E. Perth, ON K7H1E9.
Walk back down Colborne St to the corner of Gore St. E. and enter into Coutt's Coffee to begin your day.
On a hot summer day, try their famous cappuccino slush…
Sitting on their back patio is lovely experience while you enjoy the views of the Tay Canal.
Or, if you prefer, get your coffee to go, and cross Gore St. E. towards the Red Brick Emporium and Perth Cheese Shop (stop in if you like) and make your way towards the entrance to Stewart Park, past the bandstand gazebo.
Enjoy your coffee and snack in the park at one of the numerous places to sit or enjoy a stroll through the park on the various paths. The park provides many opportunities for photographs or simply to pause and appreciate nature.
Take the path over the red bridge towards the hotel and heritage statue. At this point, you can wander into Code's Mill and check out Perth Chocolate Works and Kelly's shop. On a hot or cold day, you can spend some time in the atrium enjoying your drink and snack instead of lingering in the park.
Alternatively, you can head into Parkside Hotel & Spa for a pre-booked spa appointment.
From Code's Mill, exit out the back door past the washrooms, and turn right to find yourself on Herriot St. Turn left onto Herriott St. and make your way back up to Gore St. E. On your way, you will pass Fieldhouse bakery. If you have pre-ordered cruffins, you can stop in now to pick them up. Alternatively, you could grab another type of snack.
If you feel the desire for a cold pint or a pub snack, you can head across the street to O'Reilly's pub, or you can turn left towards some of Perth's local shops.
Some notable shops to check out are: Mariposa, Flint & Honey, Dragonmoon, Ground Waves, and Lace & Lavender.
At the corner of Foster and Gore, you will find Shaw's of Perth Clothing, at one time the oldest family run store in Canada.
Across Foster St., a few other notable shops are Wishberry (for bath products), Treasure Lane and the Irish & Scottish Store.
Cross back over Foster St. and head back down Gore St. on the other side of the road. Some notable stops include The Artists' Guild for unique local products, Hays Designs for home decor, Fall River and Gallery 84 (art gallery).
At this point you will find yourself back near the Crystal Palace. You can conclude your tour here, or engage in some of the other activities that we have listed for you.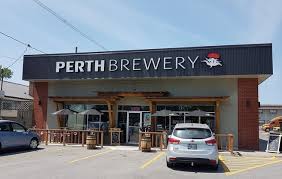 Tastings and $5 draught pints - 121 Dufferin St (Hwy 7) - Perth, ON - K7H 3A5

Top Shelf Distillery (on your way back to Loon Call Retreat)
Tastings and distillery store - 14 Warren Cres. - Perth, ON - K7H 3P4

Golf Options:
Perth Golf Course (18 holes, driving range, chipping and putting areas)
141 Peter St. - Perth, ON - K7H 3E4
Mapleview Golf and Country Club (18 holes and driving range)
2856 Scotchline Rd. - Perth, ON - K7H 3C5

Evening Options:
Studio Theatre (various theatrical productions, movie nights and other events)
63 Gore St. E - Perth, ON - K7H 1H8

Classic Theatre Festival (summer only)
This seasonal festival is a professional theatre company who offers matinee and evening shows during the summer season.

Barn Door Productions (theatre productions)
26 Craig St. - Perth, ON - K7H 1Y1

Restaurants:
The Stone Cellar
71 Gore St. E. - Perth, ON - K7H 1H7

Bistro 54
54 Foster St. - Perth, ON - K7H 1R9

Parkside Bistro
Inside the Perth Parkside Inn & Spa - 82 Peter St. - Perth, ON - K7H 1S2
Fiddleheads
Inside Code's Mill - 53 Herriott St - Perth, ON - K7H 1H5